Sep 25, 2021
Arushi Boutique Hotel
With more than 18 months of ban on all international passengers, the Government of Nepal has finally decided to resume visa-on-arrival service for all international passengers who are willing to visit Nepal.
The majority of the industries, public vehicles, and markets are back in operation after the government lifted the lockdown which has been imposed to subdue the spread of the COVID-19 pandemic.
With the notice released by the Government of 22nd September 2021, stating the lift on the ban of on-arrival-visa and quarantine, with some protocols to follow, there is a positive hope of reviving the tourism sector.
This is also great news for the hospitality industry, which has been struggling through this long pandemic situation. The news has made many hospital entrepreneursat ease and ready to welcome the foreign travelers, with new protocols and safety measures.
Table of Contents
What does Arushi Boutique Hotel have to offer Post COVID?
We, Arushi Boutique Hotel, one of the finest boutique hotel in Kathmandu Valley is all prepared to welcome foreign guest. Inspired by the beautiful valley of Mustang, a hidden kingdom behind the Himalayas; Arushi Boutique Hotel recreates the timeless flavor of Nepal's elegant past through the finest antiques and architectural design.
Long before the government imposed a ban restricting international travelers to Nepal has been uplifted, we have been lining up with the post-COVID health precautions and adopting government-issued health protocol, so that we do not lack anything once our beloved guest enters our property. We are doing all we can so that the guest choosing to stay at our property don't feel insecure and feel their health has been compromised.
In the first phase, we have made masks and globes compulsory for all the staff on the hotel premises. And these rules should be followed by all our guests as well. Similarly, we are cleaning all the rooms, cushions, sofa, and beds of all the rooms and sanitize them as a precaution. So hygiene is not an issue in Arushi Boutique Hotel.
As we open and come back to business, it will be a big challenge for us, we will assure your health and safety will not be compromised. We are incorporating sanitizing sprays and anti-bacterial agents to completely clean the floors and the amenities, while we are also working with the disinfecting agencies to keep the hotel environment as possible.
Safety Precautions and Health Protocol We Practise
Considering the severeness of the COVID-19 virus, we have requested all our staff to get their vaccination as per safety measures. With the release of these guidelines, all our staff has been vaccinated. So if you are willing to stay in our property, we assure you that you will have a most pleasant stay with us without compromising hygiene and health.
In preparation to welcome our beloved foreign guests, we are also formulating new protocols. We are consulting with the health experts on how we can minimize the risk of getting infected with the virus. We have already come up with some safety protocols like automatic sanitizing dispensers to disinfect the hands. Similarly we also regularly keep track of the temperature of our staff, and if any changes are seen in the health condition, we isolate them to sustain the possible risk of transmitting the disease. Not only that we also keep track of the temperature who enters our hotel as a safety measure.
Similarly, we are trying to make the checking-in process untouched and easy. The system to make the digital check-in system is in development. Once the system is live, you will be able to check in to our property through your mobile phone. This is a small effort by us to make the entire checking untouched and hassle-free. If you are uncomfortable getting more exposed to people and feel unsafe, we have requested all the staff to maintain their distance while interacting with you. Not only that, we have also started a cashless system i.e. we encourage all our guests to make payments through digital means or using cards because carrying cash is a hassle on its own, and money travels through various people, so even with most precautions there is always a possible risk of getting infected.
We are trying everything we can to keep the environment of our hotel as safe as possible for our guest so that they don't have to worry about getting infected and have a restful mind during your stay. And when you depart, we will love to see the smile of our guests.
Document Checklist for On Arrival Visa.
As per the latest notice released by the government, any one of two conditions should be met to be eligible to acquire an on-arrival visa. The government issued a protocol to obtain on-arrival visa are listed below:
First Case: Documents required in case of foreign nationals wishing to enter Nepal after completing the amount of vaccination:
Evidence of completion of 14 days of vaccination against Covid-19.
Evidence that the Covid 19 test report was negative within 72 hours of being checked in for aviation
Copy of mountaineering and trekking itineraries and other permits
Proof of government-approved hotel booking in Nepal (check the government-approved hotel list: https://ccmc.gov.np/arms/attachments/Quarantine_HotelsList_Recent.pdf )
Legitimate copy Travel Insurance
A print letter filled out the online form by logging on to www.ccmc.gov.np (international traveler online arrival form)
Second Case: Rules to be followed by foreign nationals who want to enter Nepal without completing the vaccination amount or after entering:
In case of a positive test for antigen at the immigration entry point of Nepal, foreign nationals will have to stay in hotel quarantine for 10 days at their own expense. Only after testing the Covid 19 on the 11th day and the report is negative, such foreign nationals will be able to engage in the work as per the purpose of their visit to Nepal.
Foreign nationals will have to bear the cost of testing Covid 19 or living in isolation and other expenses including insurance.
All foreign nationals visiting Nepal should immediately test for Covid-19 if they see signs or symptoms of Covid-19 and stay in isolation if the report is positive.
It will be the responsibility of the concerned agency to comply with the conditions as per this order for the tourists who come to Nepal through travel or trekking.
It will be the responsibility of the hotel concerned to ensure that the foreign nationals staying in the hotel quarantine or isolation comply with the relevant standards.
If any tourist does not comply with the conditions as per this order, the concerned agency or hotel shall immediately inform the Nepal Police or the concerned body.
If all the above mentioned are met then the authorities will provide the visa at the entry point i.e. Tribhuvan International Airport or border.
A glimpse of Adopted Health Protocol in Arushi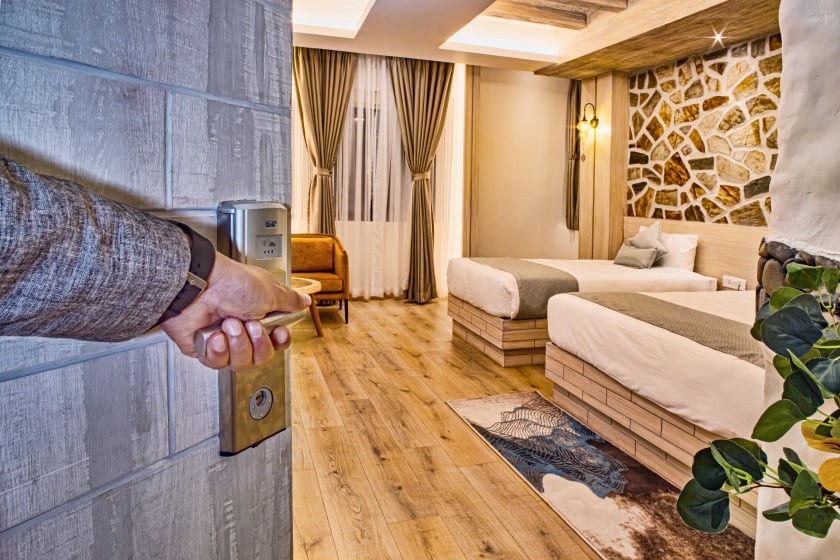 A clean sanitize room at Arushi for your healthy and happy stay with us.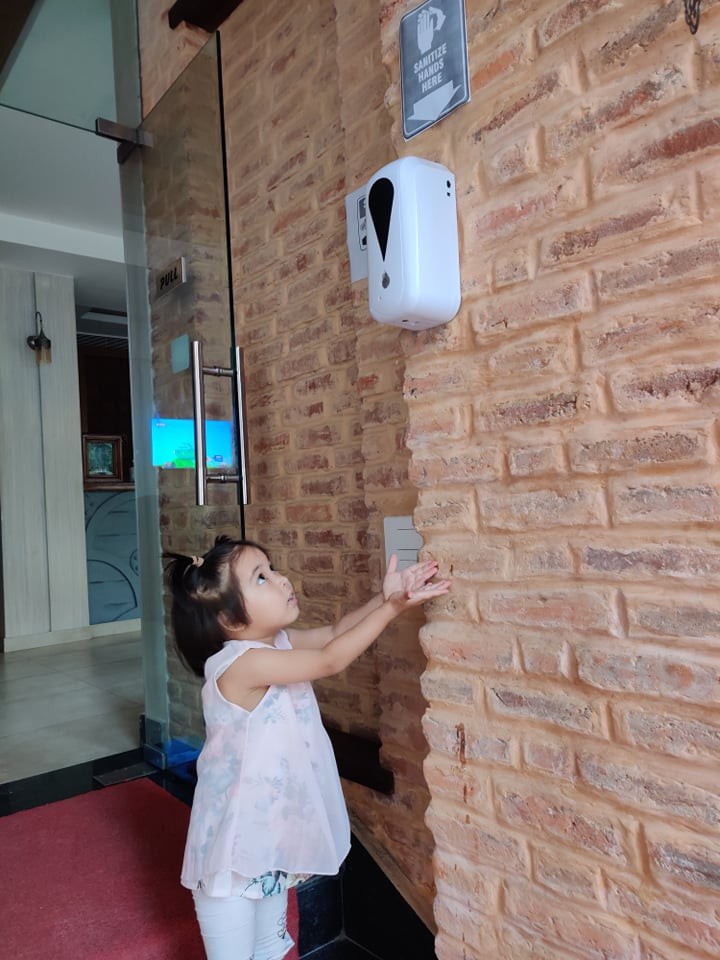 Baby girl trying to disinfect her hand from automatic hand sanitizer dispenser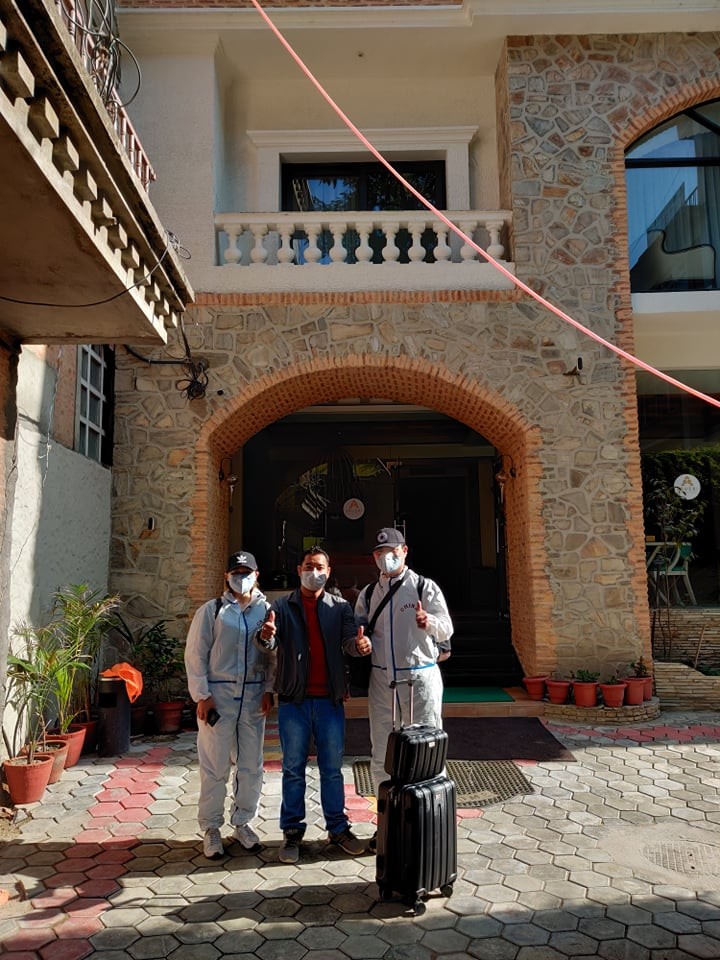 Doctor Visiting Arushi Boutique Hotel For PCR Test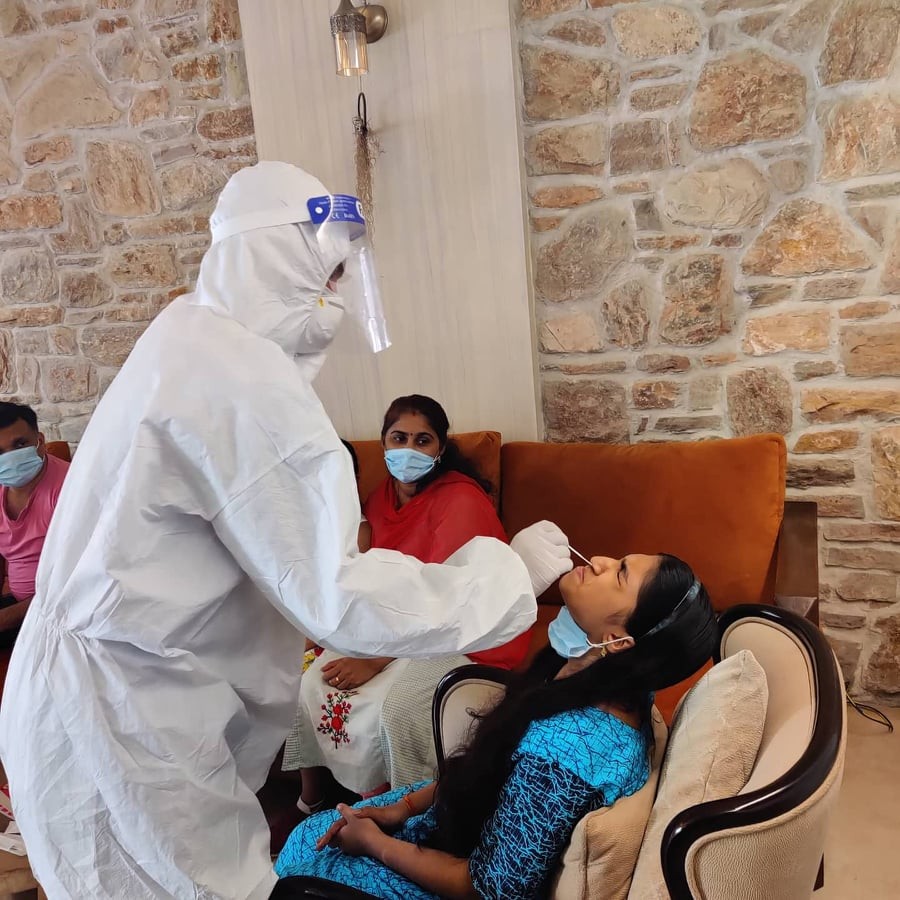 Doctors Taking Sample for PCR Test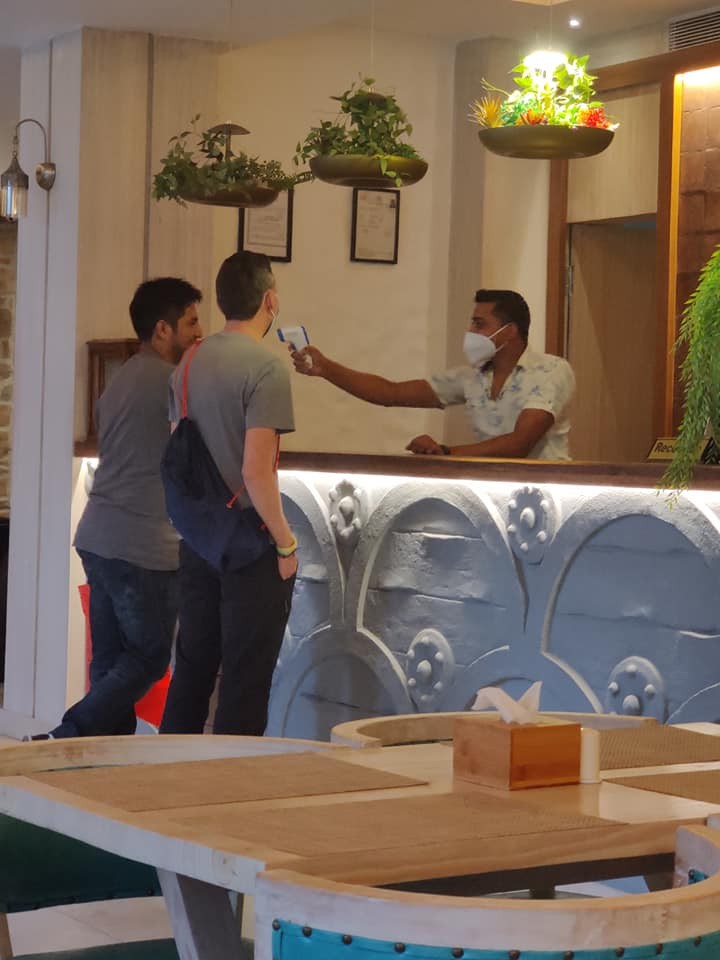 Reading temperature of the guest at the Reception before Checking In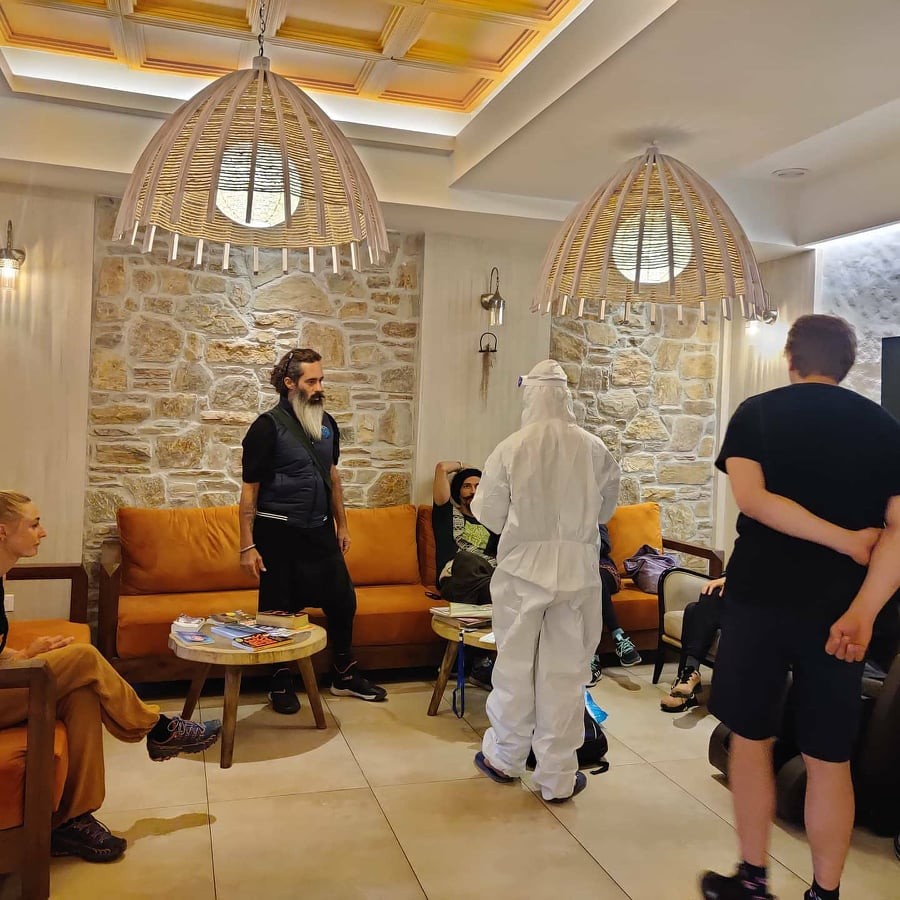 Our Guest Preparing For PCR Test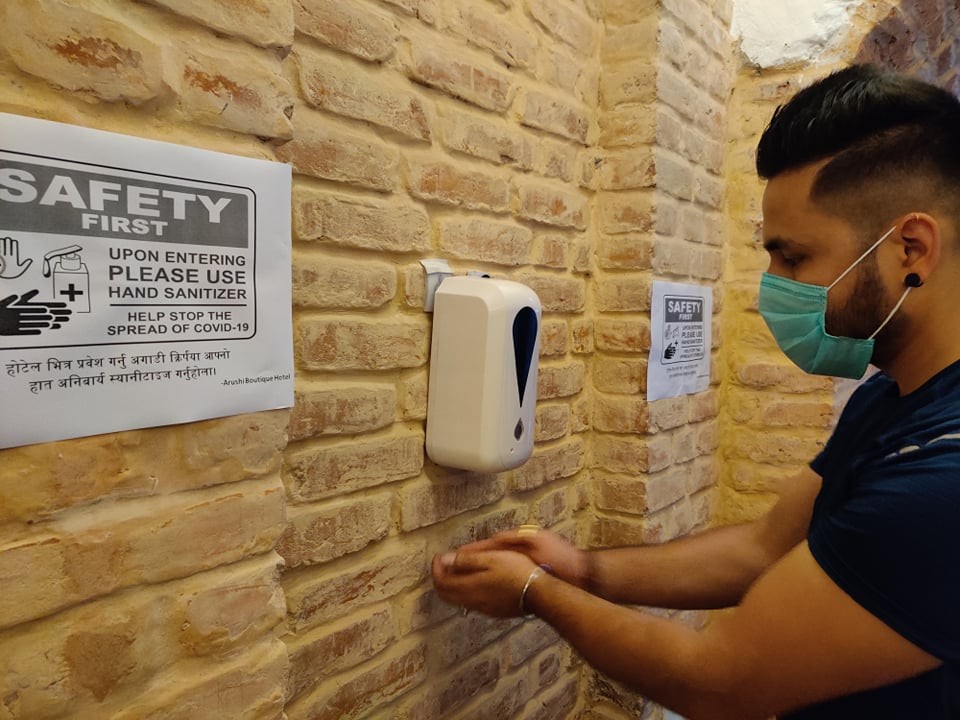 Safety First. It's wise regularly disinfect your hand.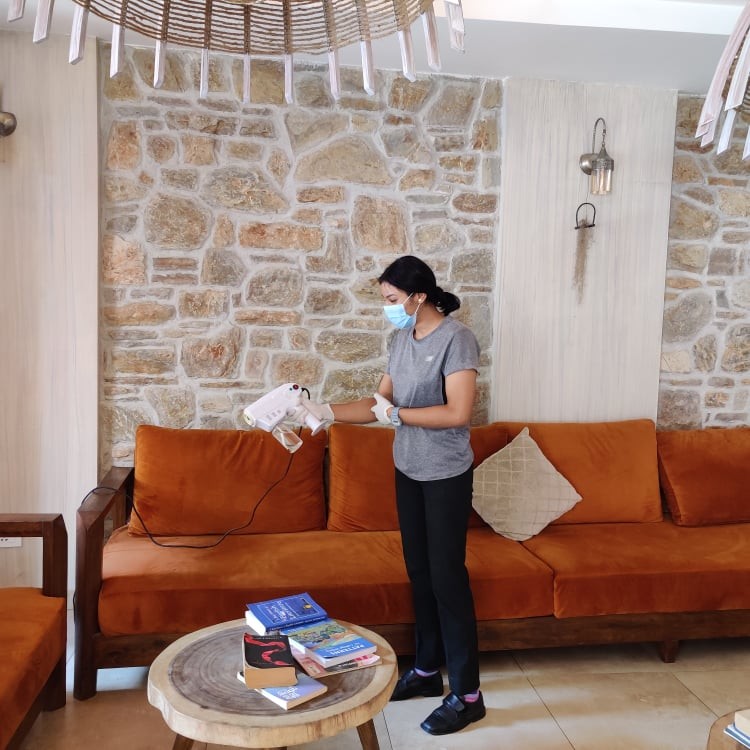 Staff of Arushi Boutique Hotel disinfecting the hotel lobby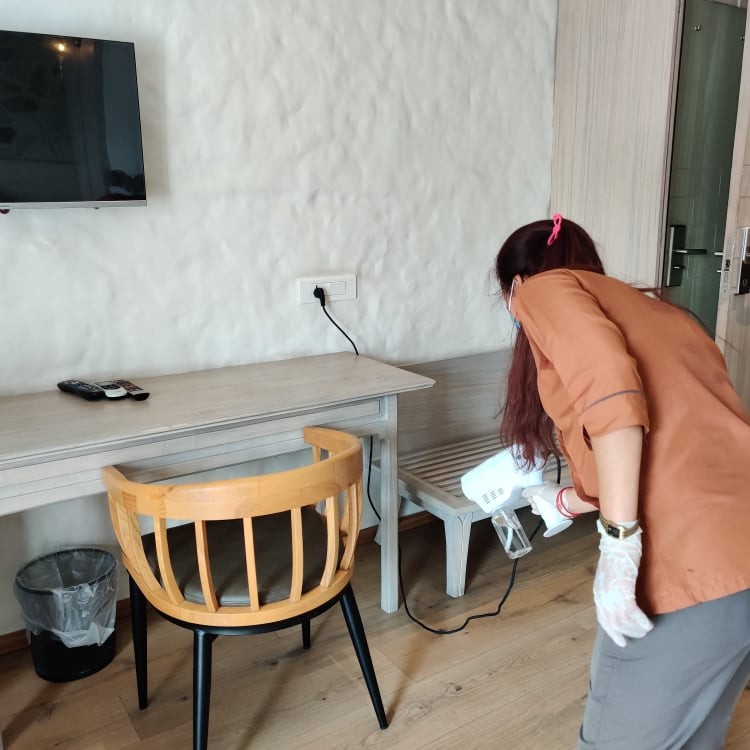 We are all set to welcome the foreign tourist with a clean sanitized room for your enjoyable vacation with us.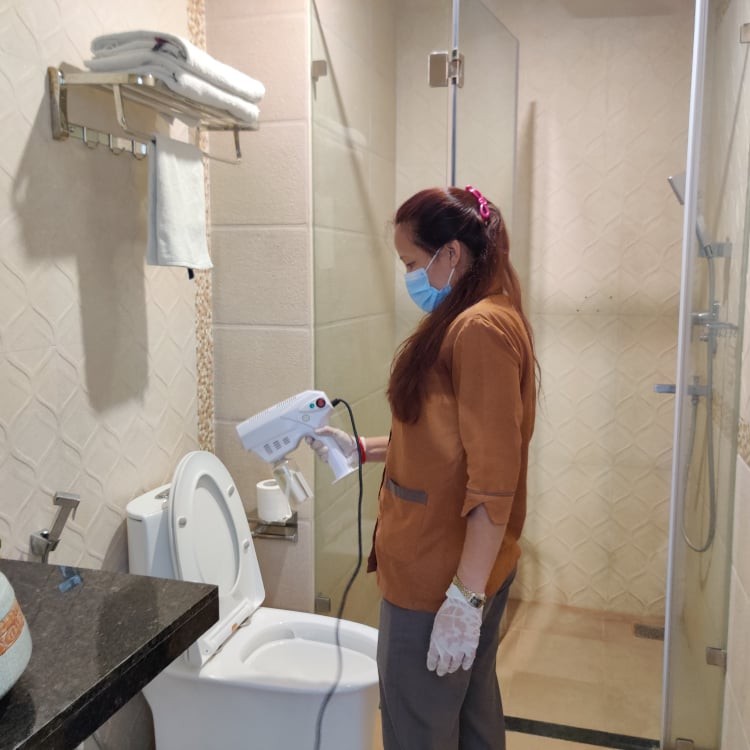 Our housekeeping is in charge of making sure every corner of the room is sanitized and disinfected after guest checkouts.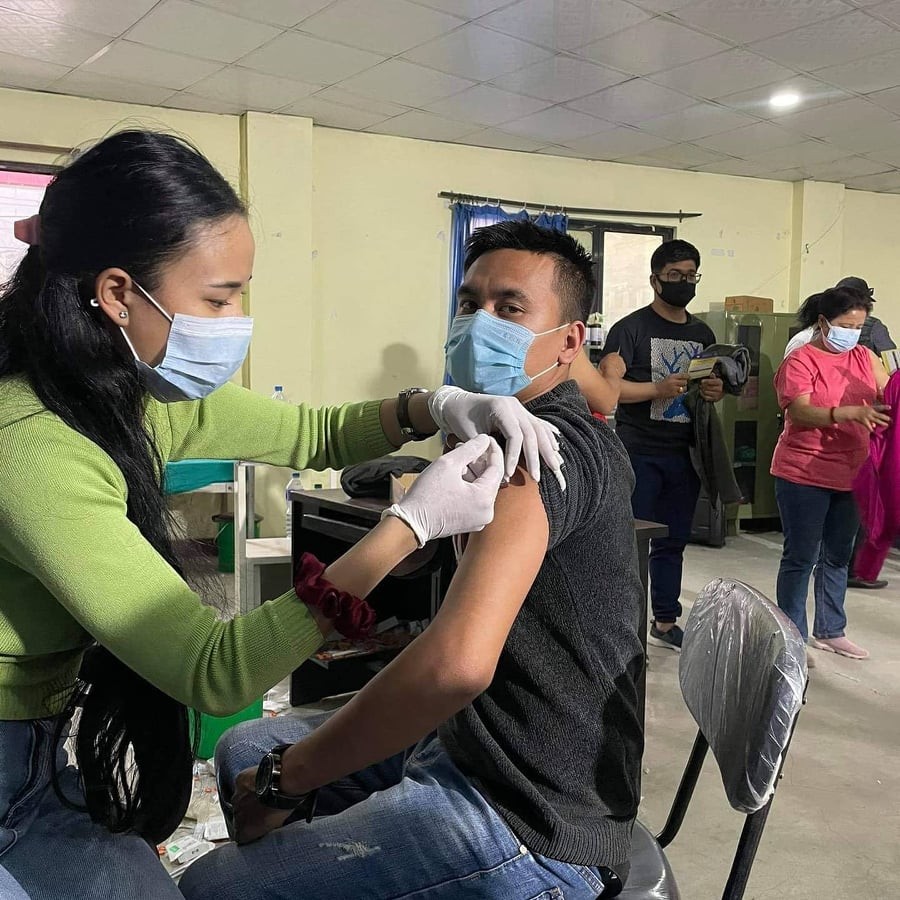 One of our staff Jitendra Magar getting vaccinated against COVID-19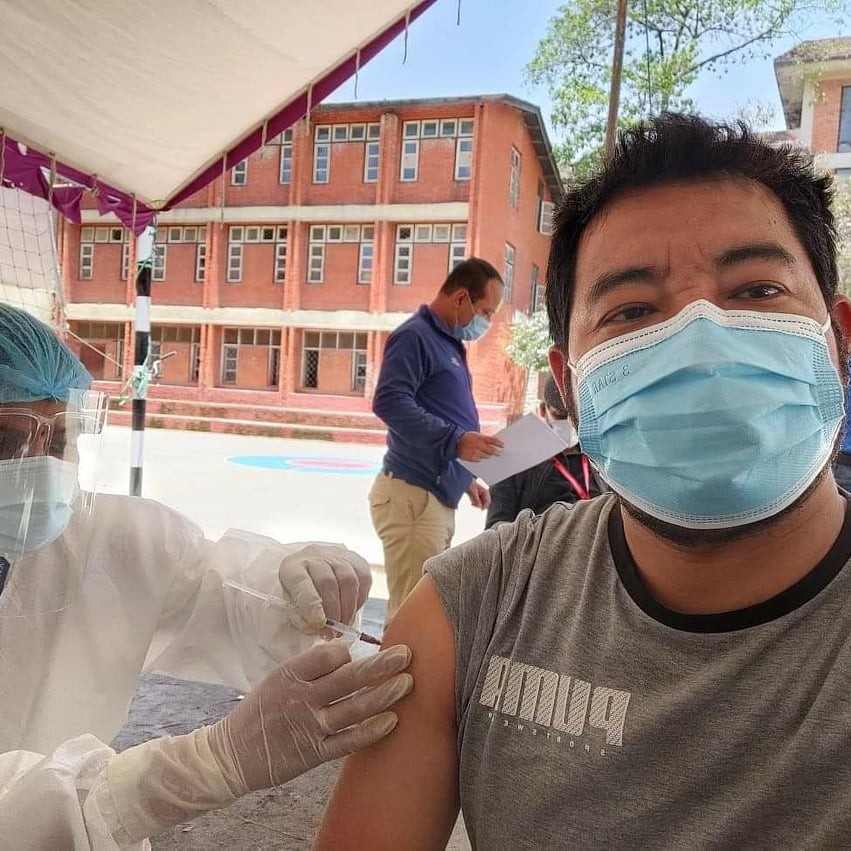 Managing Director of Arushi Boutique Hotel Getting his second dose of Covid*-19 vaccine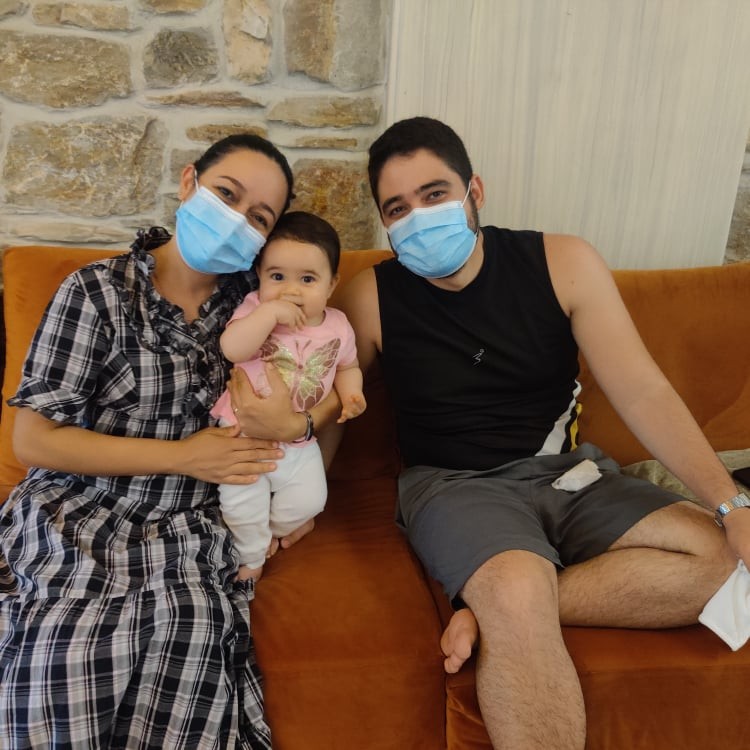 Lovely Couple Having a happy time at Arushi Boutiques Hotel Lobby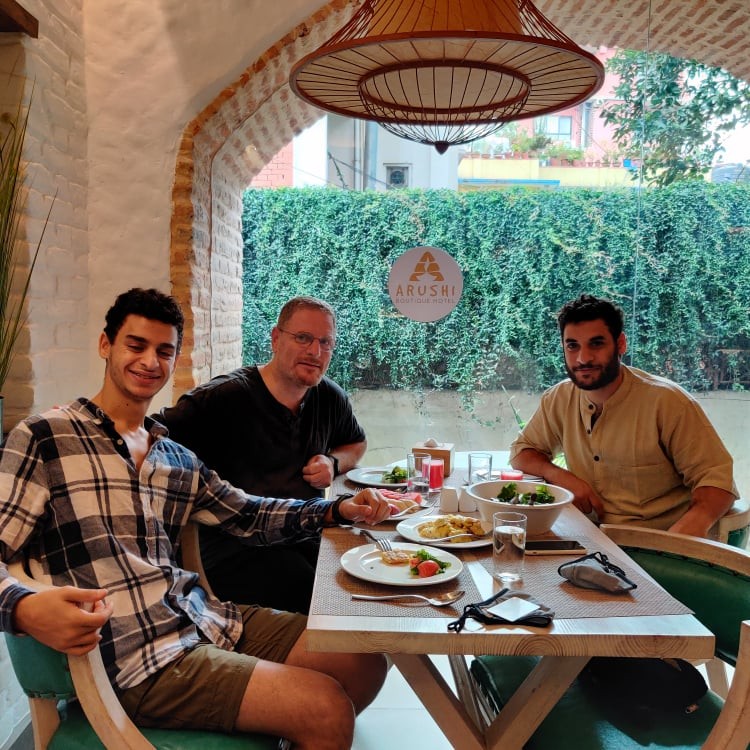 ABH Guest enjoying the finest cuisine of Nepal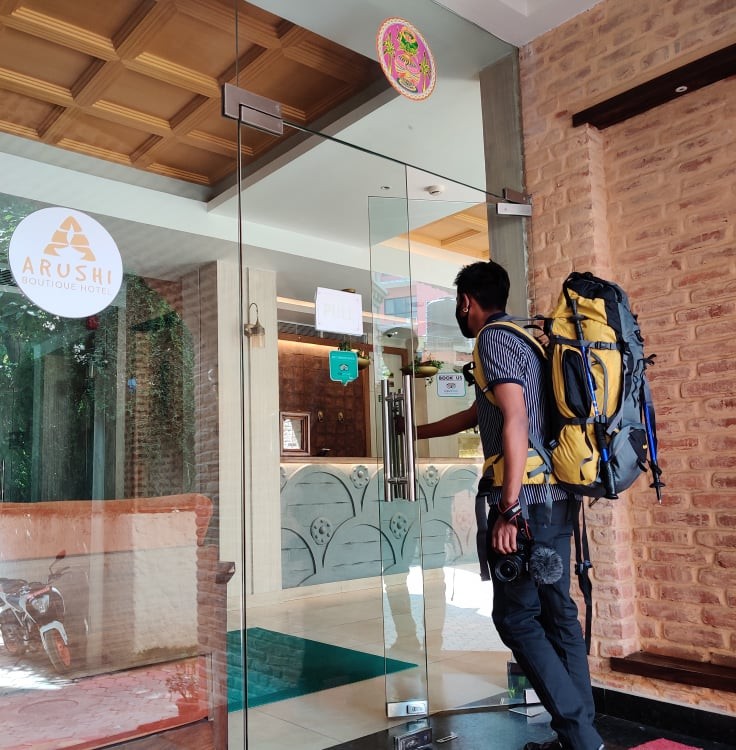 A solo backpacker making his way to the reception - Arushi Boutique Hotel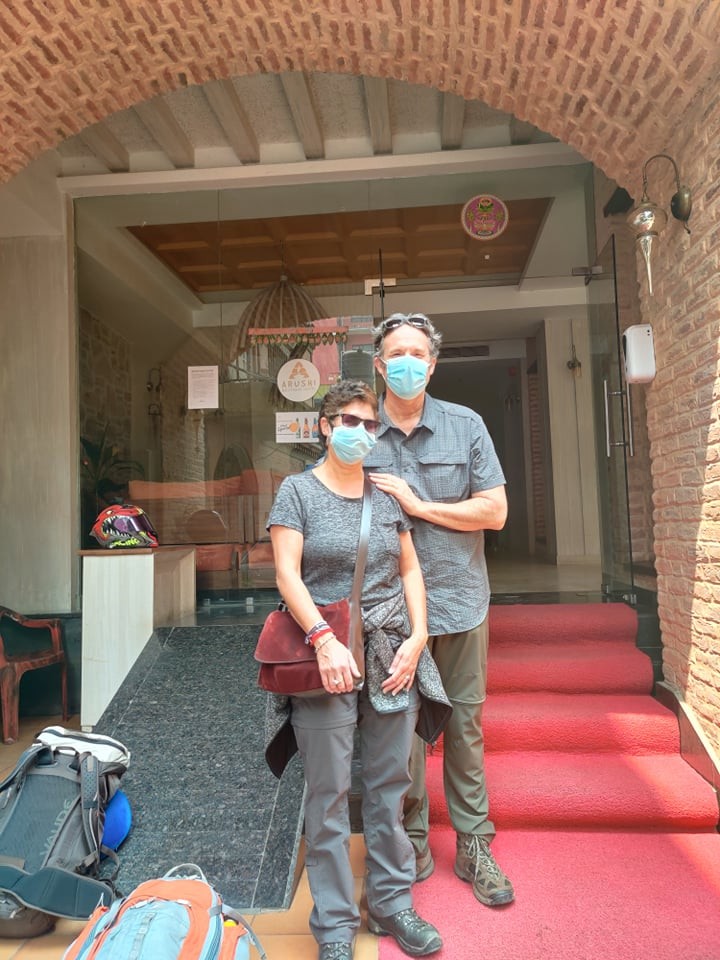 Guest Departing after a happy stay. Hope to see you again.